Matthew "Matt" Vogel (BN 378) came to Missouri S&T in the fall of 2009 as a double major in Architectural and Civil Engineering student. When he came to S&T, he had no intentions of joining a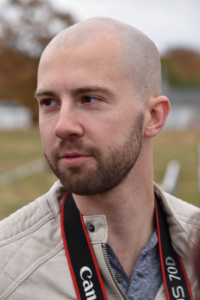 fraternity. Going into his sophomore year he was set to have a roommate that he did not care for. In his own words, "I was at Def Con 2." He decided that he needed to take action. He came over for a few visits and that was it.
While he admits that joined for some of the worst reasons it became of the best decisions of his life. His favorite memories as an undergrad were all of the large alumni events like Pats and Homecoming, specifically his first Homecoming which was the 45th. He loved meeting all of the alumni and the giant turnout that year.
He moved in during the fall of 2010 where he was voted in as his pledge class President. That was just the beginning of his many positions in the house. During his time, he held several positions from Secretary, all the way up to chapter president. In fact, the house's most recent Court of Honor came at the end of his term as president.
After Vogel graduated in the fall of 2014 he moved back home to St. Louis to start his new job at Accenture as a Senior Analyst. At Accenture he has worked on a few projects in the fields of IT, local government, and enterprise resource planning.
Even graduation couldn't stop Vogel from staying involved in Delta Tau Delta. He was almost immediately put into a position as an assistant advisor for the Epsilon Nu chapter. Each year he got more and more hands on with the chapter until earlier this year. At the 2017 Western Plains Division Conference he was officially installed as the Epsilon Nu chapter advisor.  Since becoming the advisor, he has made several trips to the chapter to lead risk management presentations and give recruitment seminars among other things.
Matt Vogel, a model Delt and valued member of Epsilon Nu. The chapter is lucky to have you as a brother and a leader. We thank you for your constant loyalty and love to your fellow Delts.