Nathan Steele (ΑΠ , 241) came to UMR in 1995 as an undecided student. He is now the general manager of a successful salt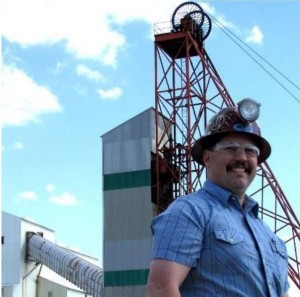 mine in Kansas. In just 15 years, he has pushed his career to high levels, championed his church, and loved his wife and kids. Exceeding even his own expectations, Nathan Steele makes it a point to live life with integrity, delivering results and long term value through highly engaged people. His strategy has been bulletproof – here's a small portion of his story.
Nathan began his college career as an undecided student, and joined Delta Tau Delta that semester as well. After three short semesters, he chose to study mining engineering. In general, his notable college experience was largely experiential. Early in his college career, he interned with Doe Run, where he worked underground and cemented his passion for mining. During his short time with Doe Run, he got a strong introduction to the mining world: making big decisions, engineering in a mine, and blowing stuff up. (Of course, getting paid to blow stuff is always cool!)
Nathan graduated in May of 2000 with a good idea of what he wanted to do with his career: underground metals, west of the Mississippi River. He spent the next eight years east of the Mississippi at a variety of mines from eastern Tennessee to Michigan to Ohio, doing both surface and underground operations. In the last 15 years, Nathan has worked with 5 different companies, in 7 different locations. Nathan married his high school sweetheart, Carrie, and they have four kids: ages 12, 10, 5, and 17 months. He and his family currently attend Lyons First Baptist Church, where Nathan serves as moderator. In an industry that has many hazards, Nathan makes sure to give God thanks for safety in his industry, and for providing the precious resource he mines.
At the age of 25, one of Nathan's proudest accomplishments was when he was assigned a temporary managerial role at a quarry in Ohio. The disclaimer his superior gave him was that the crew he would be in charge of was known for being mean, grumpy, and hard to work with. It was a crew that had worked together for over 29 years, longer than Nathan had been alive! Instead of going in guns blazing, Nathan established trust and respect between himself and the crew, which transformed their working attitudes and outlook. At the end of his short managerial role at this quarry, the crew was happy, good-natured, and more productive than ever.
He is currently the General Manager for Lyons Salt Company, where he has successfully managed the mine out of a major slump and into an unprecedented all-time record-setting upturn. If you have to go in to work in the snow and ice, you can send some blame to Nathan for providing an increasing portion of the de-icing salt that made your trek possible. During his time with Lyons Salt, he has built his managerial team from the ground up to be a well-oiled, open and honest, hard-working, safety-oriented machine. In 2012, he oversaw the construction of a massive underground bulkhead – the first of its kind in the entire world – in order to save the entire mine from the imminent threat of water leaking into an experimental portion of the mine. This bulkhead required significant planning, and over 12,000 cubic yards of concrete. It measured nearly 400-ft x 28-ft x 42-ft at its extents.
Nathan Steele—a hard-working Delt who has achieved success in his career, family life, and church. With many more years to accomplish even more great things, one is left to wonder: what next?