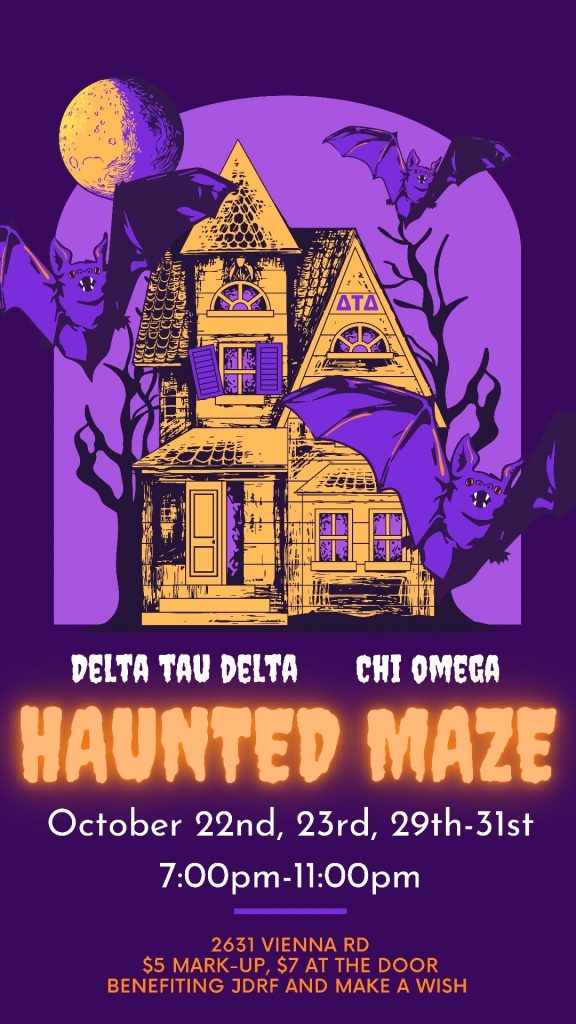 Each year Delta Tau Delta and Chi Omega host a haunted maze to help raise money for our national charities: The Juvenile Diabetes Research Foundation (JDRF) and the Make-A-Wish foundation.
We started constructions on the maze over a month before we let in our first patron. Every year maze construction requires around 600 stakes to be pounded into the ground. This is in addition to hanging tarps, wrapping twine around posts (for structure), and decorating the maze for that spooky aesthetic. This is a pretty huge undertaking that requires our organizations to put in over 750 hours of service in total! We are all very proud of the work that we put in and what we create and we appreciate every member that donates their time to make it all possible.
Marketing is also an extremely important part of what we do. After all, a haunted maze that no one knows about is barely a maze at all. Two weeks out we started passing out fliers around campus in addition to putting up signs around Rolla to let our wonderful community know about the spooky experience that is awaits them. Big shoutout to our new Neophyte Colin Harris, who singlehandedly handed out over 400 fliers on his own. Now that's some killer marketing!
This year we operated the maze for two weekends with a total of five days from 7pm-11pm. This is a day shorter than most years but thanks to the generous patronage of our fellow Rolla residents we were very fortunate to have hosted many more people than previous years. In total Epsilon Nu was able to donate over $5,000(!!!) to JDRF and Chi Omega donated $329.51 to the Make-a-Wish Foundation. This was a smashing success and total blew our goal/yearly average of $3,600 out of the water. We've set a record to beat for next year and we eagerly await our chance to overcome that new obstacle. Thanks once again to Chi Omega for their partnership and everyone that was able to come out to the maze this year. We hope to see you all back next year for our 27th annual Delta Tau Delta haunted maze!