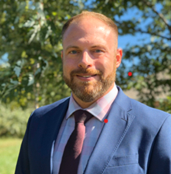 I was given some advice at the beginning of my term as president, "A crisis will occur during your presidency, all you can do is hope that it is not a big one." I never imagined it would be of this magnitude. COVID-19 has continuously put us in a reactionary mode as the world around us changes daily.
Karnea was switched to a virtual format marking this as only the second time in history it has been moved, the first being in response to WWII. Despite the complete upheaval to our standard practices and protocols, our chapter continues to move forward with a strength and unity I have not seen or felt in some time. Momentum for continuous improvement has been gradually growing over the past couple of years and I am honored to bear witness to it.
The Fall 2019 semester is a prime example of this success. The chapter GPA rose from a 2.63 in the Spring 2019 to a 3.05 during the Fall. The 0.40 increase far exceeds the highest single semester increase for the Western Plains division of 0.25. This is largely due to a major overhaul of the Academic Probation Plan that has taken place since the beginning of 2019. The plan is broken into tiers based on a GPA range (< 2.0, 2.0-2.5, 2.5-2.75) and each tier is required to accumulate a set number of points for the semester. These individuals are required to submit various documents (homework/test scores, study hours, etc.) bi-weekly which will go towards their point total.
The chapter bylaws have also been adjusted to reflect our vigor for academic excellence. Any member who falls below a 2.75 GPA for two consecutive semesters is automatically suspended. Any member on academic suspension will continue to receive academic support from the chapter to assist them in raising their GPA the following semester above 2.75 in the hopes that they can regain active status. At the end of the day, suspended or not, these are our brothers and we are committed to helping each other achieve lives of excellence.
Another positive note since our last ENus was our success with the Haunted Maze. We raised over $3,500 for JDRF during our annual event. We opted for a different approach from years past and partnered with Chi Omega in the hopes that it would foster more interest among the campus community. We allowed members of the Greek community to mark-up for tickets and set up booths on campus the week prior to opening night. T-shirts were created as well to create another revenue stream. 10% of the proceeds were with Chi O and went to their national philanthropy Make-A-Wish Foundation.
Finally, I want to take a moment to highlight our recruitment this past summer. The original plan was quickly scrapped as the world shifted and came to a halt from a pandemic not seen in over a century
Thanks in large part to a recruitment committee willing to adjust on the fly and buck the status quo, we successfully pledged eight new members, and initiated seven of them this October. We managed to recruit through weekly events held on the chapter's Discord server where PNM's are invited to play various games and get a virtual glimpse of what a Delt brotherhood looks and feels like. A standardized list of questions was created to help us vet PNM's and see if they met the eligibility standards we want out of an Epsilon Nu Delt. This helped ensure that we were not just recruiting to reach a set number of pledges, but that we were recruiting the strongest pledges to carry us forward in our mission. I am very proud of what the recruitment committee accomplished and am extremely proud of our newest brothers.
Your continued support and active involvement are paramount to our chapter's continued improvement. I am proud to say that we have one of the strongest alumni bases that I have seen. It is truly an honor to serve among men who are vastly different from one another and yet have found a common thread in which to weave their moral fabric. This has never been more evident than at a time like this where tolerance and patience for our fellow members of society is at a breaking point. You can reach me at riceat@mst.edu. Thank you for the opportunity to serve this chapter, this fraternity, and you.
By: Adam Rice (BΩ 451)